I never enjoyed bourbon until I discovered the trick to drinking it; taking it neat with tiny little sips. No ice cubes to hurry things, no mixers to obscure the flavor, just a little sip to touch the tongue and kick off a 30 second explosive yet rewarding flavor expedition of sweetness, fruit, spice, and America.
There are plenty of great bourbons out there (some favorites include Buffalo Trace, Bulliet, and Makers Mark) but tonight I'm trying some Four Roses Small Batch and it's quickly becoming a favorite.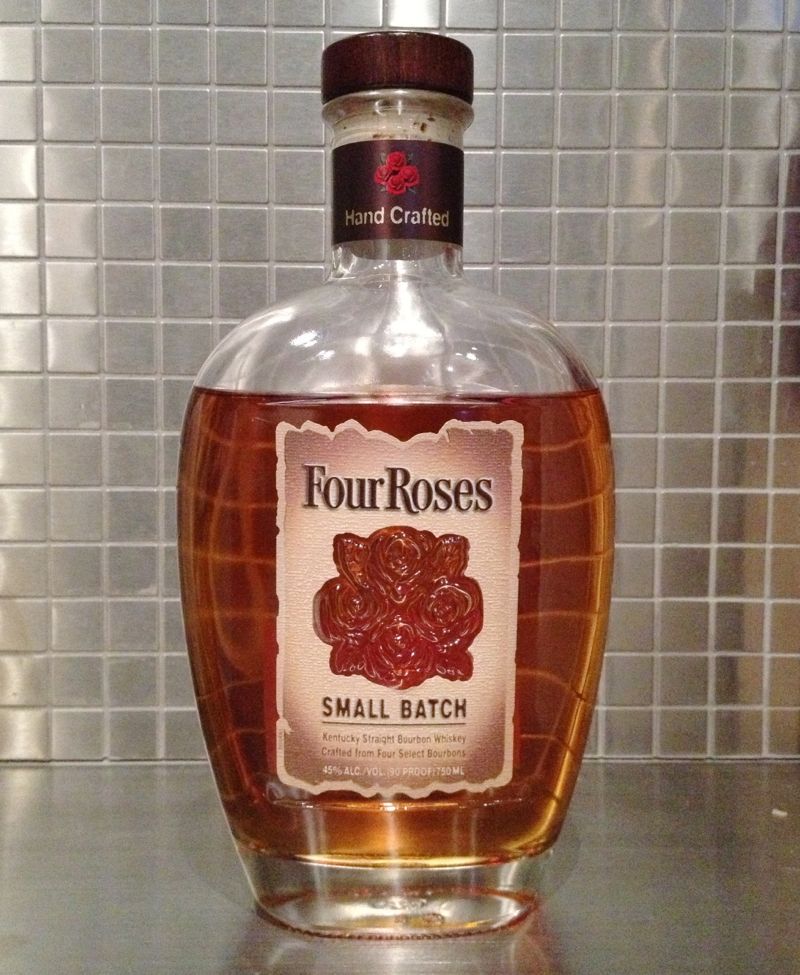 So with a baseline appreciation of bourbon under my belt, I'm expanding to appreciate bourbon reviews as well. This review of Four Roses Small Batch Bourbon from "Mike" at Bourbon Enthusiast is pretty accurate:
Taste: A rich but softly sweet fruity entry that virtually explodes at mid palate with cinnamon and pepper…….. cleansing the whole palate and leaving some heat in its wake. The spicy and sweet flavors weave a kaleidascopic profile that changes over a short time.

Finish: The mid-palate heat and spice does not overwhelm the finish as one fears. The rich barrel, grain, and fruity flavors return for an encore in the midst of some dryness, and manage to leave a buttery residue that is very satisfying. Excellent.
But he goes on…
My opinion is that this bourbon must be approached as if in slow motion. It must be allowed to unfold much as a day lily does in the morning sun. It is 90 proof but plenty potent for its purposes…….. if allowed sufficient time to accomplish them. I take those purposes to dampen the riot offered by the Four Roses Single Barrel and offer a similiar but quite different bourbon drinking experience. Both the Single Barrel and the Small Batch come on with serious intent to make an impression on your taste module. And they succeed. The Small Batch is a bit in the way of a mock charge, while the Single Barrel keeps little in reserve and goes all out. But both attacks are like those of a well trained army, with specific aims and goals. You must (my opinion) respect them on their terms or they will lay waste to you. I do not think of Four Roses Bourbons like I do any other bourbon. They (as always, my opinion only) make no allowances for new or inexperienced bourbon drinkers and demand respect and attention not often required by other bourbons. There is no better bourbon in this world than Four Roses Bourbons, and indeed, there is no better spirit in this world than Four Roses Bourbons………. it has its equals in both worlds, but nothing is better. Jim Rutledge is an American genius and he and Four Roses deserve all the accolades they receive.
Sometimes reading the reviews about the bourbon is just as satisfying (and dizzying) as drinking the stuff itself.